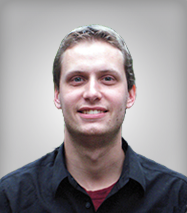 As mentioned above, my name is Richard Cabelka and I am a web developer and game designer living in Hong Kong.
I was born and bred in the Czech Republic where I earned my bachelor's degree in Information Technology and English. Shortly after finishing my university studies I moved abroad and was immediately infected with a bad case of travel bug, which resulted in a two-year stay in the UK and relocating to Hong Kong in 2006 where I have lived since. Despite frequent emotional pleas from my family, I have no immediate plans to return home any time soon—the world is a too big and too interesting a place.
Over the course of my career, I have held a number of different positions and filled a variety of roles. I have worked as a translator, an IT manager in an international boarding school, and a game designer and project and office manager in a multimedia lab and entrepreneurship centre. I am also a co-founder of Bonobo Analytics, a data analytics startup looking to improve the way e-commerce companies work.
I enjoy writing code and building beautiful and usable websites. The process of creating something from nothing is deeply rewarding and seeing your work come together and materialize on a computer screen is a feeling like no other. I tend to focus on details and obsess about every single pixel. I am a big fan of strong typography and minimalist approach to design. I also firmly believe that the underlying code is as import as its visualization and that what is under the hood matters. I'm familiar with HTML5, CSS3, PHP, Python, JavaScript (jQuery), MySQL, MongoDB, WordPress, Joomla, Magento, and Django.








As much as I enjoy development, I am even more passionate about video games and game design. Games offer interactivity that is impossible to find in any other form of media and have an unlimited storytelling potential which enables the game designer to connect with the players and create a unique emotional experience for them. I enjoy a huge variety of titles and will play almost anything, but an ideal design for me is the one that marries deeply fun and engaging mechanics with the necessity to make difficult moral and ethical decisions, thus encouraging the players to reflect upon their experiences and the concepts surrounding it.
In addition to all things digital, I love martial arts (I train in pencak silat and Filippino kali), hiking and generally being active and outdoorsy. I could not live without my Kindle, I watch a lot of movies, and have a keen interest in psychology and personal development.
My Skills
Find me elsewhere